Wo Aankh Badi Hi Pyari Thi.., Jo Usne Humko Maari Thi.., Hum To Muft Me Lut Gye yaaron.., Hume Kaha Pata tha Ki Unko… Baba Ram Dev wali Bimari Thi.
Santa- me bus pe chadu ya bus mujhpe dono me kya farq he?
Banta- koi farq nahi dono bar ticket tera hi katega.
Oyee Mere Dost
Andhere Ke Ghost
Double Ande Ke Toast
Bujhe Hue Lamppost
Flop Show Ke Host
I Miss You The Most
Machchhar Ka Bachcha Paheli Baar Uda. Jab Wapis Aaya To Baap Ne Pucha,Kaisa Laga?
Machchhar-Bahut Achchha,Jaha B Gaya Log TALIYA Baja Rahe the
ladke walo ne ladki walo ko bataya tha ki mera beta payalet hai…
Bad mein pta chala ki
.
.
.
vo shadi mein Drown camera udata hai.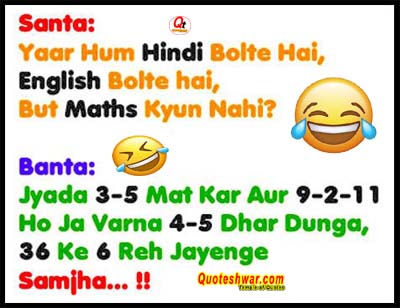 One Kid asked me what is Stress??
I locked him in a Room with High Speed Internet and 1% Battery.
An old man had 8 hair on his head.
He went to a barber shop.
Barber in anger asked: shall I cut or count?
Old man smiled and said "Color It".
Life of a college student: Wallet hai- Paise nahi, Lecturer hai- Attendence nahi, Cell hai- Balance nahi, Friends hai- Girlfriend nahi, Exam hai- Tension nahi, Padhna hai- Mood nahi!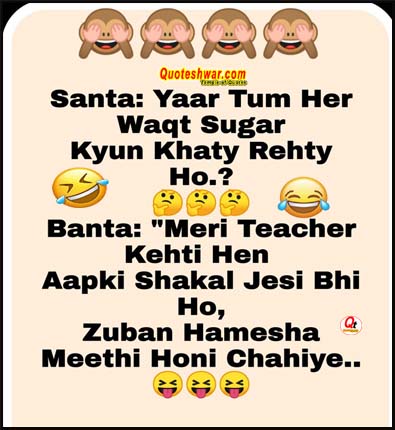 Teacher: What is the future tense of the statement: I had killed a thief?
Student: You will go to jail.
Sir: Agr koe school ke samne Bomb rakh de to kya kroge??
Student: 1-2 Ghante dekhenge koe lijaayaga to shi verna staff room me rakh dengy.
Students Anthem
hum honge all pas
hum honge all pass ek din,
ho ho…. sote hai Bindass,
likhte he Bakvas,
karte he Timepass,
fir bhi hai Vishwass…
marks milenge jhakkas ek din…….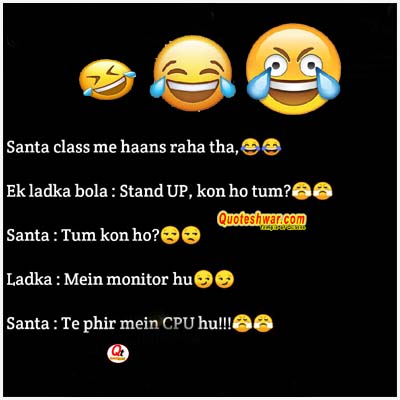 Santa(Nokar sai): Jara dekh to bahr suraj nikal aya ya nhi?
Nokar: Bahr to andhera hai!
Santa: Aray to torch jalakar dekh le kaamchor.
Wife: what is 10 years with me?
Husband: A second.
Wife: What is $1000 for me?
Husband: A coin.
Husband: wait a second.
She: I like bad boys
He : Main subhah 5 baje ghar ataa hu
She: hahaha… Actually i like good guys
He: Main subha 5 baje mandir se pooja krke ghar wapas aata hun
She: Again I test you…. I like only bad boys.
He: Main subha mandir joota chori karne jata hun.
What do you call a train carrying bubblegum?
A chew-chew train.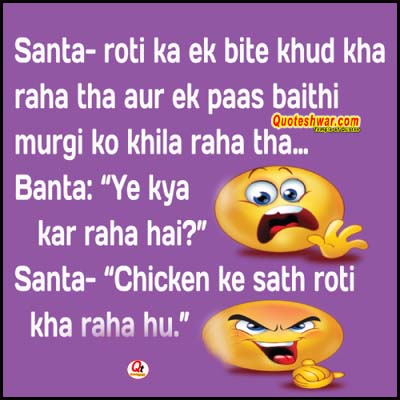 A Man Lost his Wife In Tsunami
One Drunk-Night ..
while standing on the Seashore, waves touching
on his feets .
He shouted to the Sea: 'No matter how many times your Waves Touch my Feet
.
.
.
I'll Never take her back .. !!
Its your mistake..
Deal With It Now…
When you are single you see happy couple every where,
.
But
.
When u r married
.
you see Happy Singles every where………………….
Banta: Why did you beat your wife so much?
Santa: The ayurved told me to "beat properly" before administering the medicine to her!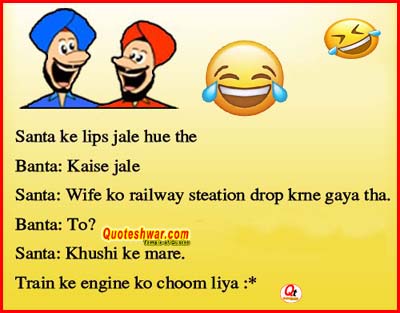 Real Astronomers are in our family,
1st Mother who showed the moon in childhood.
2nd papa – who used to show the whole universe in just 1 slap.
Third wife – who shows stars during the day. This NASA is just confusion.
Banta: How the word "Wife" was invented?
Santa: They took the first two and last two letters of "Wildlife"!
Two Golden rules of Very Happy Marriage
1-The wife is always right.
2-When you feel she is wrong slap yourself and read rule number 1 again.
Chintu: philhal kya karte ho?
Mintu: 'IIN' Dropout hun
Chintu: kya?
Mintu: Net Pack Khatam ho Gaya, Papa Ne Recharge ke paise nhi diye, Tabse Ghar par hi hun!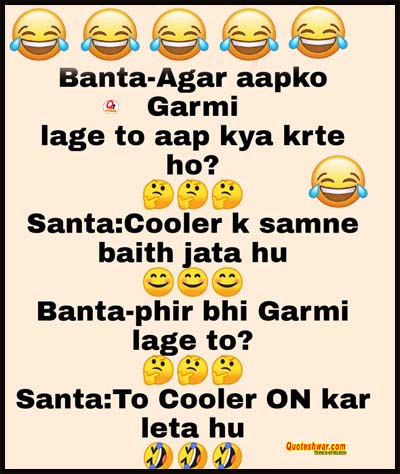 Salesmen: sir cockroach ke liye powder lengy kiya?
Pappu: "Nhi hum cockroach ko etne laad piyar nhi krtai! aaj powder lga dengy to kal fogg mangenga!
salesman behosh!!!
Santa Banta se- Yaar UP me itni gareebi hai ki subha-subha log lakdi khane ko majboor hain.
Banta- Abe ullu …. use datun kahte hain
Professor: Panch ke beech mein Chaar likhkar btao…..
Cheen: Mjak mat kro!
Japan: Namumkin!
American: Swaal galt hai…!
UK: Net par nhi hai…!
Indian: easy…!
F (IV) E
esay khtai hai "jugad" bhartiyon ne ganit ko hila dala..!
Me: Yaar chashme wale to kuch galat bhi nhi kar sakte
Friend: Wo kyu?
Me: Agar naak cut gayi to chashma kese pehnenge.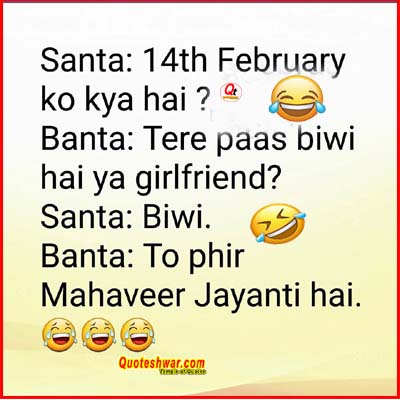 All Husbands are like Bluetooth.
Always connected to wife when she is around.
But
The moment wife is Away,
They automatically start searching new devices.
Two Army Men were talking:
Army Man 1: Why did you join the army?
Army Man 2: I didn't have a wife and I loved war, so I joined… How about you? Why did you join the army?
Army Man 1: I joined because I had a wife and I loved peace!
Father to son: hey son! Why is your mother sitting so silent today??
.
.
.
Son: nothing dad.!!!!
she asked forlipstick and i heard favistick. Father: god bless you my dear son..
Mandap mein dulhan ko sir jhukae baitha dekh ek buzurg mahila boleen,
"bahu kitni sushil aur sanskaari hai, jab se baithi hai, sir neeche kie huye hai.
ek baar bhi nazaren utha kar nahin dekha ."peechhe se aavaaz aai,
"maanji….dulhan Whatsapp par onlinai hai"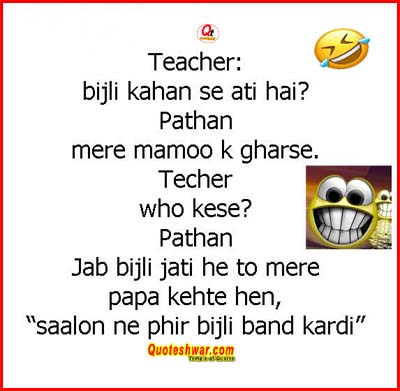 Conductor: haan bhai ticket katao
Santo: Conductor saab 2 ticket de do
Banta: bhai tum to akele ho
Santa: agar ek kho gai to..!!
Conductor: Agar doosri bhi kho jaye to?
Santa: kaisi baat kar rahai ho conductor saab, je paas kis liye lekar ghoom raha hoon main.
Science Teacher: Tum sab class mein so rhai ho?
Student(Raju): Nhi sir gurtavaakarshan ke karn sr niche gir rha hai.
I went to renowned restaurant of Delhi and my bad
luck all seats are full with young couple. I called
my friend and shouted friend your girlfriend is sitting
with someone else. 5 seats vacant immediately.
You are Joker
You are Funny
You are Comedy
You are DramaBaaz
You are Crazy
You are Silly
You are Fool
.
.
.
(*_*)
/ ::: \
why are you looking Down…
is it Not Enough for YOU?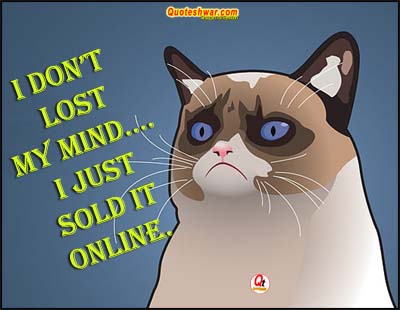 Ladki:- Mat kar mera picha 1 din pachtayega, bhar coleg k tu chole bhature ki shop lagayega…..
Ladka:- Tu mat thukra mere pyar ko, 1 din pachtayegi, usi chole ki shop pe bartan manjti nayar aayegi.
Santa doctor se: Doctor saahab mere problem hai ki,
khana khane k bad bhook nhi lagti
Sonai ke bad nind nhi lagti,
Paani pine ke bad piyas nhi lagti
aap btaaye mein kiya kru.
Doctor: raat ko suraj ki roshni mein ankh khol kr so jao sb thik ho jayga….
Santa plane lend hotai hi chilane laga banglor aaya banglor aaya ballai ballai
Air hostess: hello sir B silent
Santa: Ok
Anglor Aaya Anglor Aaya
Allai Allai.
A lady calls Santa for repairing doorbell.
Santa doesn't turn up for 4 days.
Lady calls again, Santa replies I'm coming daily since 4 days. I am coming here and pressing the bells for 4 days.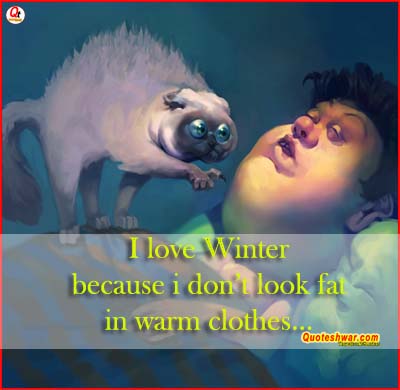 On a romantic day Titu's GF asks him, "Darling on our engagement day will you give me a ring?"
Titu: From landline or mobile?
Teacher: Who are lizards?
Students: They are those poor crocodiles who forgot to have horlicks when they were young.
Madam-Who searched "I Love You"?
Titu- China
Madan- How?
Titu- Its has no warranty. If works, till forever.. If not, then no ever.
Santa went to court
Judge: "Order! Order!
Santa: "1 Pizza, 2 Dosa, 3 Idili and 1 Cold-drink"
Judge: "Shut up"
Santa: No-No 7-up!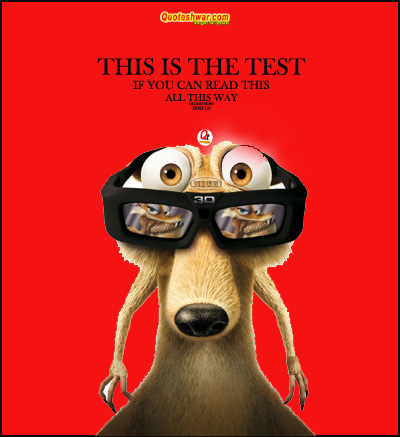 Teacher: Tum bade hokar kya karoge? Student: Facebooking Karunga Teacher: Nahi mera matlab hai kya banoge? Student: Facebook pages ka Admin banunga
Teacher: Ohoo I mean bade hokar kya hasil karoge?
Student: Facebook Admin Rights
Teacher: IDIOT Mera matlab bade ho kar mummy papa ke liye kya karoge?
Student: Facebook par Page bnaunga I LOVE MOM DAD
Teacher: Stupid tumhare papa tumse kya chahte hain ?
Student: Mere Facebook ka Pasword
Teacher: Oh God tumari zindagi ka kya maksad hai?
Student: Facebook but never Face your Book
Gappu: What's your brother doing in these days?
Pappu: He opened the shop but he is now in Jail!!
Gappu: What for??
Pappu: Shop was opened by Hammer!!!
Lalu s PA: Sir There is a new problem
Lalu: Ka problem?
PA: Ebola
Lalu: Kaun bola?
PA: Koi bola nahin Sir Ebola
Lalu: Arrey Kaun bola bhai? Nitish bola? Modi bola? Kaun bola?
PA: Sir aap samajh hi Nahin rahey hain Ebola
Lalu: Abey ham samajh Nahin rahey hain Ki tum pagla Gaye ho ka? Bola kaun Manmohnwa Bol Diya ka re?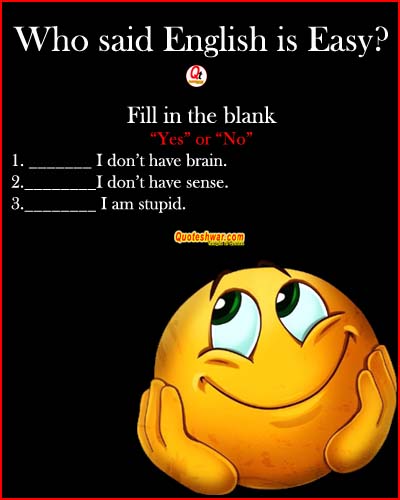 Chintu chup ke cigarette pee raha tha tabhi us ke papa aa gaye Chintu ne ghabrahat mein jaldi se cigarette shirt ki jeb mein chupa li
Papa gusse se: Kya tum cigarette pee rahe the?
Chintu: Nahin toh
Papa: Toh phir tumhari shirt se yeh dhuwan kyun nikal raha hai?
Chintu: Papa aap ne baat hi dil jalane wali ki hai toh dhuan toh niklega hi
Engineering viva rocks:
Sir: Tell Ohms' law.
Student: Sir I don't know full, I know only last part of it.
Sir: OK, tell that only.
Student: This is called Ohms' law.
A Girl to a Boy in a train: Can I sit here?
Boy: It all yours
Girl: Can I take some water?
Boy: Ya sure my goodness Girl thodi der ke baad
Girl: Bhaiya agla station kaun sa hai?
Boy: Mere baap ne mere bheje mein GPS fit nahi kar rakha hai jaldi se seat khaali kar mujhe neend aa rahi hai.
Banta was driving his car in a zigzag fashion on the road. The traffic inspector stopped him.
Banta: I'm learning to drive the car.
Inspector: Without the instructor?
Banta: Correspondence course!